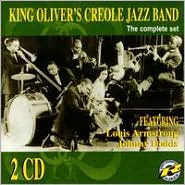 Review:
This 2-CD set is a revelation. This is the best release I have heard of King Oliver's first recordings. It documents the beginning of King Oliver's and Louis Armstrongs recording careers. Covering the years 1923-1924, comes just 6 years after the very first jazz recordings ever made---you are travelling here to the very roots of Jazz. The sound on these CDs is remarkably vibrant and clear---the best treatment I have heard of any acoustically recorded music. Comparison with the other CD releases of the same King Oliver recordings reveals its superiority (although RealAudio compression muffles and distorts the sound, differences can be distinguished). The stunning thing in these recordings is the emotional and rhythmic intensity achieved by King Oliver's band. Canal Street Blues and Dippermouth Blues have a cathartic energy that I don't hear in other bands again until the advent of the Beatles and the Grateful Dead---it's King Oliver's on-the-edge soulfulness, something that is more than just the individual arrangements, musicians, and style of the time. And, man, King Oliver gets down! This music is funk. It's a far cry from the comic style that people associate with Dixieland. His later electric recordings show his funky vibe even more (the great sounding "Sugar Foot Stomp: King Oliver and His Dixie Syncopators" [Decca Jazz #616] is regrettably out of print).
Mp3:
Download Album
Tracklist:
Disc 1:
Just Gone
Canal Street Blues
Mandy Lee Blues
I'm Going Away To Wear You Off My Mind
Chimes Blues
Weather Bird Rag
Dipper Mouth Blues
Froggie Moore
Snake Rag
Snake Rag
Sweet Lovin'Man
High Society Rag
Sobbin' Blues
Where Did You Stay Last Night?
Dipper Mouth Blues
Jazzin' Babies Blues
Alligator Hop
Zulu's Ball
Working Man Blues
Krooked Blues
Disc 2:
Chattanooga Stomp
London Cafe Blues
Camp Meeting Blues
New Orleans Stomp
Buddy's Habits
Tears
I Aint Gonna Tell Nobody
Room Rent Blues
Riverside Blues
Sweet Baby Doll
Workin' Man Blues
Mabel's Dream
Mabel's Dream
Mabel's Dream
The Southern Stomps
The Southern Stomps
Riverside Blues
Kiss Me Sweet
Construction Gang
King Porter Stomp
Tom Cat